History of the KNOWN Empty Quarter Expeditions:
* Bertram Thomas, 1931 (south to north through the eastern lobe, requiring 63 days by camel – a true crossing).
Ref: H.StJ. Philby, 1933, "The Empty Quarter: Being a Description of the Great South Desert of Arabia Known as Rub' al Khali "
* Harry St. John (Abdullah ) Philby, 1932 (north to south and back, then Wabar west to As-Salayil, requiring several months – two true crossings).
Ref: H. StJ. Philby, 1933, "The Empty Quarter: Being a Description of the Great South Desert of Arabia Known as Rub' al Khali": Henry Holt, New York, 432 pp.
* Wilfred Thesiger, 1946-48 (crossed part of the eastern lobe, later traversed along the northern edge). Note: we sadly announce the passing of Wilfred Thesiger, "Al Mubarak bin London" on 24 August 2003 at age 93.
Ref: Thesiger, 2008, "Arabian Sands", Penguin Classics, Updated Edition, 426 pp.
* ARAMCO: incursions for oil exploration, 1937 – 1962.
Ref: Multiple internal ARAMCO reports; National Geographic, 1965.
* National Geographic/ARAMCO Expedition, 1965, from Dhahran to Wabar and back.
Ref: National Geographic, 1965
* Mandaville et al., 1984, Dhahran south to Wabar and west to As-Sulayyil – a very long, true crossing.
Ref: Photos, sextant log, other documentation sent to website manager for verification.
* Lothingland and others, 1988, Dhahran to Wabar and back.
Ref: No good ref to this one; webmaster welcomes information; see Contacts page.
* Three Zahid Expeditions, 1994-1995:
Ref: See below. Also: Scientific Reports section at the bottom of this page.
* NEC Empty Quarter Expedition, 1999, Crossed the eastern lobe – a true crossing.
* Halloran-Mikati-Ro-Ro Expedition, February 2003, Crossed the northeastern lobe – a true crossing.
Ref: Footsteps of Thesiger Expedition, Nov – Dec 2011:
Started at Salalah, Oman, on 31 October 2011, Ended in Abu Dhabi, on 14 December 2011
– Adrian Hayes
– Saeed Rashid al-Mesafri
– Ghafan Mohammed al-Jabri
Traverse (South to North) ending on Abu Dhabi's National Day:
Salalah, Oman -> Dhofar Mountains -> Wadi Marhit -> Mugshan -> Qsr al-Sareb -> al-Nashash -> Liwa -> Jebel Hafeet -> al-Ain, Abu Dhabi
1200 kilometers, 6 camels
Ref: www.footstepsofthesiger.com
* Hajar Ali Expedition (First Female Empty Quarter Expedition) March 2012 :
Started in al-Ayn, Abu Dhabi, Ended in Salalah, Oman
1200 kilometers, 6 days, 4WD Vehicle
Ref: http://luxurytravelstories.com/empty-quarters-expedition/ Note: Waypoint log sent to the webmaster.
*Christian Bender-Koch Expedition, 2019:
Dhahran to Wabar and back (awaiting further documentation).
ZAHID EXPEDITIONS: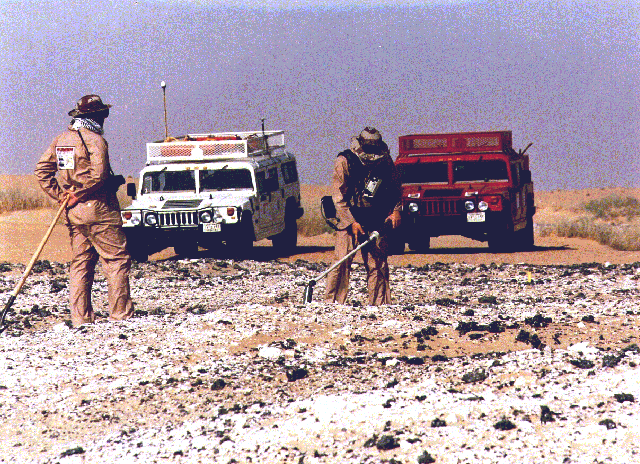 Searching for bolide metal fragments, used in chemical analyses, in the debris-field of the Philby-B crater. Jeff Wynn on the right.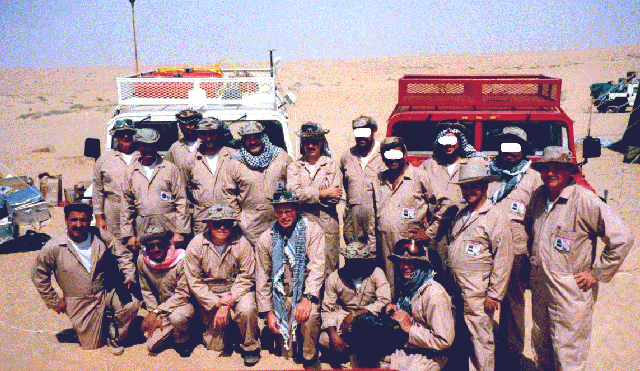 A few names: Joe Polimeni (front left), Bill Chasteen (front third from left), Wafa'a Zawawi (second from left, rear row), Tony Balla (third from right, cowboy hat), and Gene Shoemaker (right). Faces of four Saudi professors covered to protect their identities – for what was subsequently called an unauthorized trip.
The three Zahid Expeditions:
Expedition 1: May 16-22, 1994 (Crossing from west to south, briefly in Yemen, then south to north, passing through Wabar).
We entered the Rub' Al-Khali driving from Abha to Shorurah ("the town at the End of the World"), examining ancient lake-beds with hippo teeth, ostracods , freshwater shells – and elegant flint arrowheads. Attempting to follow the map provided by the Harris Al-Hodood (Saudi Border Patrol) we inadvertently camped in Yemen during the 1994 Yemeni Civil War, returning via the Saudi border post at Kharkeer with help from a local Bedouin who would not cross the frontier with us. Inside the tent-circle of our first camp we encountered 9 scorpions, two camel-spiders (which actually have 10 legs, so are technically not spiders but are Solifugids – they belong to the Arachnidae family and are distantly related to scorpions – see the photo in the Images page), and one sand-viper. The Major assigned to us from the Harris Al-Hodood, badly spooked, gave up on us then. He commandeered the Al-Hodood Nissan and drove back home to Abha. We had several interesting encounters with Jerboas, a kangaroo-mouse that we discovered ("first-hand", literally!) is a carnivore. From here we entered the dangerous, dead core of the Empty Quarter and made our way – under the guide of an incredible desert tracker from the Murra tribe named Ali al-Murrah – to Al-Hadida (the Wabar Impact site). This strange place of black glass and white rocks represents a Hiroshima-Atom-Bomb-scale asteroid impact explosion; we have gathered sufficient evidence to prove that this event is very young – it happened in the Spring of 1863. There are at least three crater rims still visible, and the exposed wind-sorted ejecta field is about 500 by 1,000 meters in size, caused by an explosion-cloud that reached the stratosphere (see title photo of the amazingly dense ejecta field on the Home page). We then visited the eerie, highly radioactive, wrecked weather-station and dead airplane at Ubayla, and finally encountered civilization again at Umm Bakh on the 6th day, ultimately landing in a luxury hotel in Dhahran. I took two showers and one bath that first night back just to get the sand out of my hair.
This expedition was an extraordinary accomplishment, for we had crossed an area as dangerous – and logistically more difficult – than Antarctica. If an accident had befallen anyone, no helicopter or fixed-wing aircraft could have ever reached us. Seventeen people in 6 Hummers covered 1725 km of continuous sand dunes in only 6 days. At Wabar, Jeff Wynn completed a magnetic profile over the two largest meteorite craters – when the temperature reached 142 degrees F. (61 degrees C) in the shade. This was:
the longest crossing (actually TWO crossings), and
the first summer crossing of the Empty Quarter, both records, and also
the record fastest crossing. We could do this because we were driving six of AM General's Hummer vehicles – amazing machines that can inflate or deflate tires while driving. We repeatedly pulled the .50-cal machinegun-toting Harris Al-Hodood (border police) Nissan pickup out of sand-traps, but stuck a Hummer only once: when we high-centered it on the top knife-edge of a seif-dune (we winched it off).
Expedition 2: November 30 – December 3, 1994 (Survey Grid Set-up)
We raced into the Wabar site from Riyadh, taking 17 hours one-way to get there, set up a precise survey grid, and returned in only 3.5 days. It required driving at night for much of the time, using flame-thrower halogens to avoid the dangerous, south-facing dune slip-faces. Ray Maybus, the US Ambassador to Riyadh, accompanied us and took photographs.
Expedition 3: March 14-20, 1995 ("The Shoemaker Expedition")
With Gene Shoemaker, we drove in and camped at the Wabar site for 5 days and 6 nights, completed detailed geological and geophysical mapping, and reported results at a news conference in Riyadh (see photo of Gene in the Images page). On the way into Wabar we encountered a zone of dunes that had been rained on – leaving weird 10-cm gray/beige contours on the dunes (each band representing a day of sand-movement in the diurnal windstorm cycle) that looked for all the world like a billowing topographic map. Temperatures on this expedition reached only a "mere" 131 degrees F. (56 degrees C. – see photo in the Images page) while we worked at the site, and our camp was destroyed twice by raging sandstorms, one of which nearly killed our cook, Gabriel. As we would eat our gritty meals we would be seranaded by Dr. Jaffrey's organ keyboard, while periodically lifting our feet to allow the hunting scorpions an open path to the occasional wind-blown insects that represented their dinners. On the way out, we were rained on so hard north of Haradh that we had to drive down wadis full of water – in an area where it might typically sprinkle rain once in 10 to 100 years.
EMPTY QUARTER Expedition Scientific Publications:
Shoemaker, E.M., and Wynn, J.C., 1997, Geology of the Wabar meteorite craters, Saudi Arabia: Proceedings of the XXVIII Lunar and Planetary Science Conference, Houston, Texas, 17-21 March 1997, Vol. 3, pp. 1313-1314.
Wynn, J.C., 2002, Mapping an iron meteorite impact site with a magnetometer, and implications for the probability of a catastrophic impact on Earth: Journal of Environmental & Engineering Geophysics, vol. 7, no. 4 (December 2002), pp. 143-150.
Prescott, John; Robertson, Gillian; Shoemaker, C.; Shoemaker, E.C.; and Wynn, J.C., 2004, Luminescence dating of the Wabar meteorite craters, Saudi Arabia: Journal of Geophysical Research – Planets, 109, E01008, doi:10.1029/2003JE002136, 2 tables.
Bender Koch, C.; T. Kasama, C. Gundlach, and J. Wynn, 2018: Impactites beyond metamorphism: A plasma origin of vesicles. The Meteoritical Society 2018 Annual Meeting (Moscow, Russia, July 22-27, 2018)
Wynn, J., and Wynn, L., 2018, The Magic Kingdom – with Three Short Trips to Hell: Kindle Direct Publishers